Microsoft Internet Mail Setup
To be here you should have:
(If the wizard appears see the wizard instructions below.)
click Start, Programs, Internet Mail or Start Internet mail from your browser "Internet Explorer" by clicking read mail

Click Mail on the top menu bar

Click Options

Click the Server tab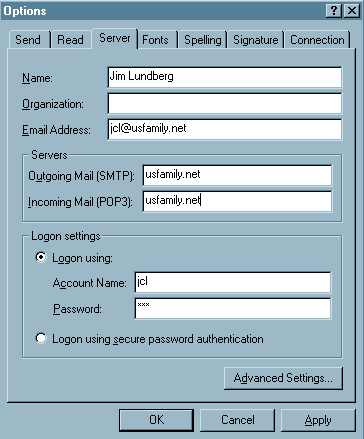 Duplicate the information above - but use your mailbox name in place of jcl this is your email address without the @usfamily.net.

Enter your name

Enter your email address in lowercase

Enter the 2 server names - usually usfamily.net (or usjet.net etc if you chose one of those)

in Account Name enter the 1st part of you email address up to the @ (do not put in your usf- number)
Internet Mail setup using the Internet Wizard

and decided against using Eudora e-mail, Netscape e-mail, or some other e-mail package

and decided in favor of the microsoft product on your system (Internet Mail, Exchange, Outlook).
Restart the Microsoft Internet wizard using the instructions Easy setup using "Internet Wizard" in Windows 95 and follow them up to step W-9 or whereever you see this screen.
Internet Mail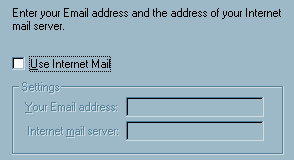 or enter yes i woant to use internet mail.
W-9. To select the Microsoft e-mail on your system. Select Use Internet Mail.
Enter your e-mail address userid@usfamily.net
Userid is your e-mail address up to the @
Internet mail server usfamily.net

Leave the defaults for any additional e-mail screens ((i.e. Messaging Profile) and finish the rest of the wizzard according to the Easy setup using "Internet Wizard" in Windows 95 instructions.
Welcome to USFamily.Net!!!